One year ago, I was found by two Appalachian Trail (AT) section hikers on Forest Service Road 71 in North Carolina. To read about their story, click here.
This is my story. My name is Cullowhee. My friends and family also call me Cully. I am a Treeing Walker Coonhound.

I am an AT section hiker – my trail name is "Velcro." I took a road trip to celebrate the first anniversary of my discovery day. I just had to go to North Carolina because that is where I was found. I chose "Beauty Spot" on the AT – one side of the trail is in Tennessee and the other side is North Carolina.
My paws have touched the AT in 9 states: Tennessee, North Carolina, Virginia, West Virginia, Maryland, Pennsylvania, New York, New Jersey, and Connecticut.
I can be shy when I first meet someone new. It helps if you bend down to my level. If you run up to me, I will back away. If there is a crowd around, I will stay close to my family.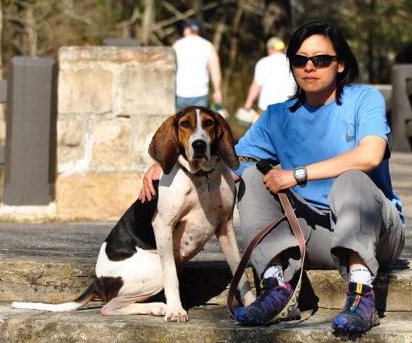 I am afraid of thunder, lightning, and loud noises like fireworks and four-wheelers. I will run to my safe place in the house if I sense danger. I completely shut down when I am scared.

I am very stubborn. My family calls it the "Hound Brain." No amount of food, affection, or tugging will change my mind. I have to be dragged out of bed every morning. Some mornings, I will not go bathroom until I am fed. I just ain't gonna do it. I put on the hound brakes.

I have a very strong bite and I love to chew. Several books and blankets in my house no longer have all their corners. I will chew anything – nothing is off limits. I have probably maimed every stuffed animal in my house. I have tried to chew the clips on backpacks, the straps on hiking poles, shoe laces on boots, etc.

I am a bed hog! When I go on vacation I prefer my own bed.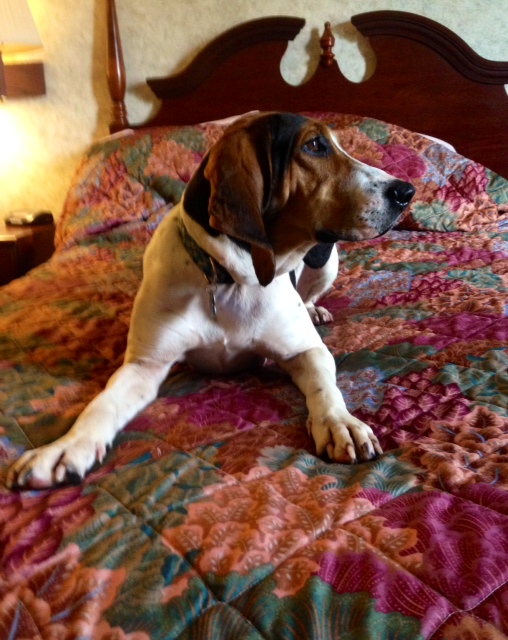 But if I do have to share a bed, I usually start curled up in a ball. And then I wiggle my way perpendicular to everyone – it is much easier to kick them out of bed that way.
I am a very fortunate hound because I have been loved by many people.
Macon County Animal Control. These kind folks gave me food, shelter, and medical care. They cared for me until a spot opened up at Appalachian Animal Rescue Center (formerly Macon County Humane Society).
Appalachian Animal Rescue Center. These wonderful people continued with my medical care and got me spayed. I was obviously allergic to something and the staff thought it may be the cleaning solution in my pen – so I became the office dog. Lisa would also share her sausage biscuits with me.
Sit Stay Training. My trainer Meghann Weller-Redmer helped me learn how to communicate with my family. Before Meghann's help, I did not know how to walk on a leash. I did not know the commands for sit, stay, down, heel, and come. I was completely out of control.
My 500+ followers on Instagram – Who knew there were so many people who loved goofy hound dogs? Apparently #treeingwalkercoonhound can bring you lots of IG love!