This was the first time we took both of our dogs with us on a hiking vacation.
Cullowhee is a 5 year old Treeing Walker Coonhound and she was adopted from Appalachian Animal Rescue Center in Franklin, North Carolina. To read more about Cullowhee's story click here.
Michaux is a 7 month old German Shepherd Dog and she was adopted as a puppy from One Dog At A Time in Lewistown, Pennsylvania.
Since Michaux is still young and because it was hotter than expected, we decided to only do short hikes this trip.
Hightower to Cooper Gap (May 9, 2015)
We got a late start this morning because we were tired from the long drive to Georgia yesterday. It was already toasty when we began hiking just before 11 AM.
We let both dog off leash since there weren't many people around. Whenever we encountered other hikers, we called the dogs to a heel position because we know that some folks don't like dogs.

Cullowhee did not seem to mind wearing her Ruffwear Singletrak Pack. The pack has 2 large pouches for collapsible water bottles and then two smaller pouches.
It didn't hurt that every time we stopped for a break, I reached into Cullowhee's pack and got them treats. Cullowhee had worn her pack during several walks around our neighborhood prior to this hike and did not seem to mind it.
Dirigo noticed this beautiful snake sunning itself beside the trail. It was a good day to be a snake.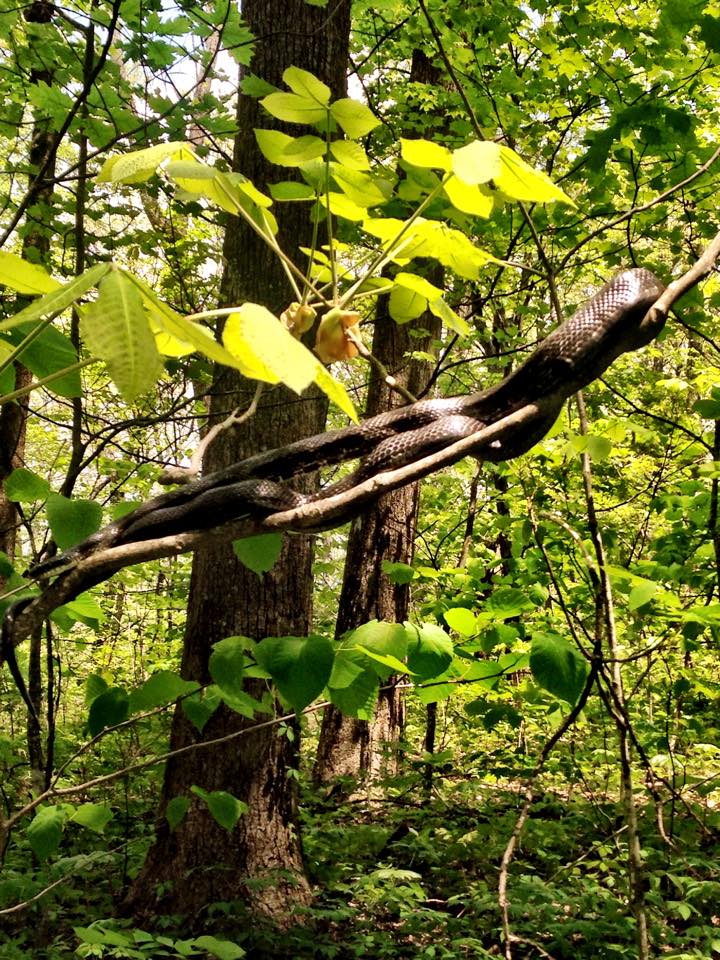 The temperatures were really starting to rise as we climbed Sassafras Mountain. At one point Michaux just laid down on the trail because she was getting tired. So, we gave the dogs some water and then found a nice shady place to rest just before the summit.
Dirigo also started to overheat so she laid down next to Michaux for a while until she cooled down too. We were glad that we were both carrying an extra 2 liters of water for the dogs.
The descent was a bit steep but at least it was short.
We made a mistake after we picked up both cars. We took FS42 towards Springer Mountain and it took us way out of our way. The only good thing about this is that we found a really good BBQ place with outdoor seating.
Cooper Gap to Gooch Gap (May 10, 2015)
Wow, can't believe it had been 5 years since we had seen our good friend SHOE.
This section is notorious for being very dry so we brought several gallon jugs of water with SHOE and left them at Cooper Gap.
We had several nice water crossing and Michaux loved playing in the water. Fortunately, Cullowhee went through the water without any issues.
We stopped for a short break after the first water crossing and SHOE pulled out cheese dip! It wouldn't be SHOE without cheese dip!
We stopped for a nice long break at Gooch Mountain shelter with several other long distance hikers and a really cocky thru-hiker. For some reason, the thru-hiker decided to use his speaker phone to wish his mother a happy Mother's Day. Talk about ruining our wilderness experience!
For some reason SHOE jokingly accused our dogs of vandalizing the shelter! Do these look like faces of vandals??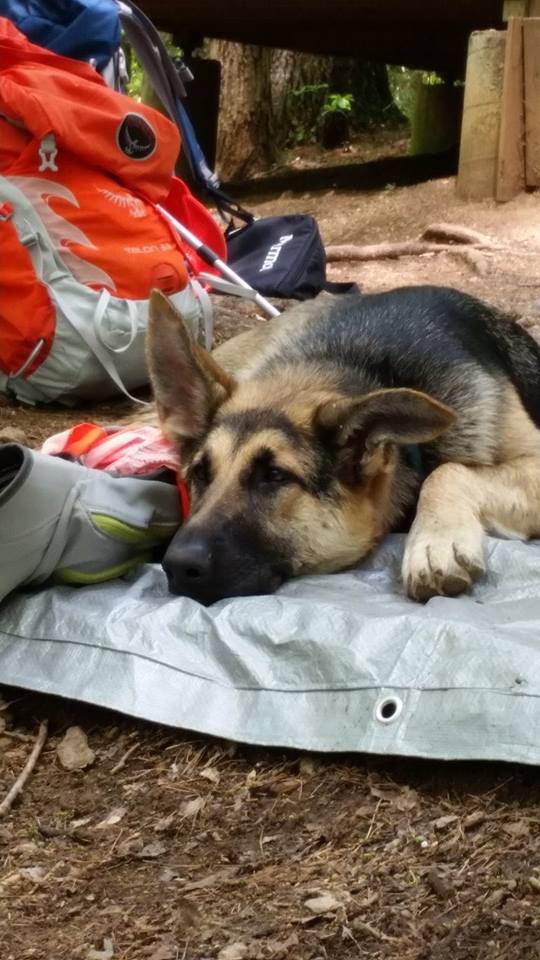 After the hike we met our good friend Vicki in Helen for dinner. Fortunately, we found a restaurant with shaded outdoor seating that allowed dogs.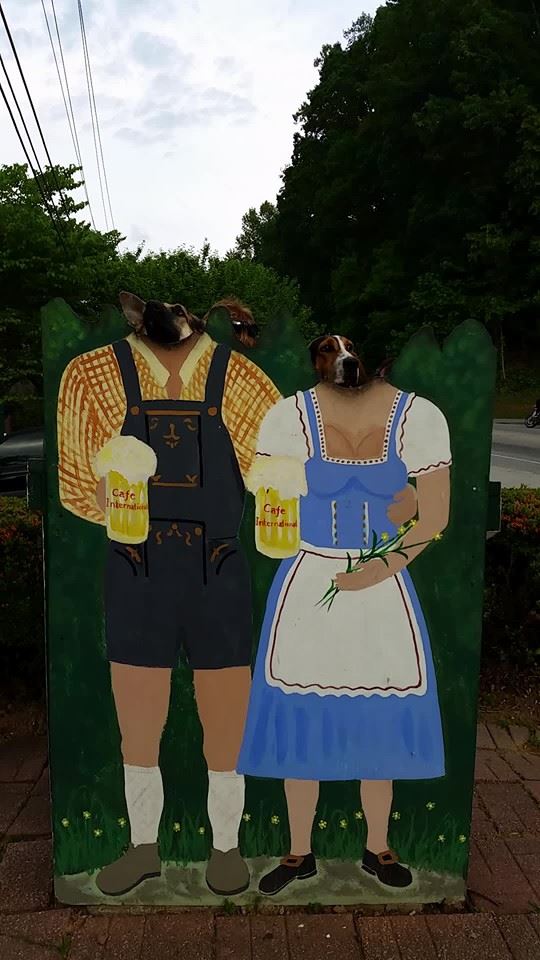 Woody Gap to Gooch Gap (May 11, 2015)
Google joined us for our annual PLAID hiking day! The dogs wore plaid scarfs at the trail head but we took them off once we started hiking because it was hot.
This is a beautiful lovely section of the AT. It was very gentle hike so we took our time and enjoyed being in the wilderness.

We meet a very nice couple out backpacking for the weekend. Earlier today they found a small dog on the trail – they dropped the dog off at a local's house. The dog was probably dumped on the trail so they plan on adopting it – they named it Appy. We told them how we found Cullowhee on the AT in North Carolina and they loved the story.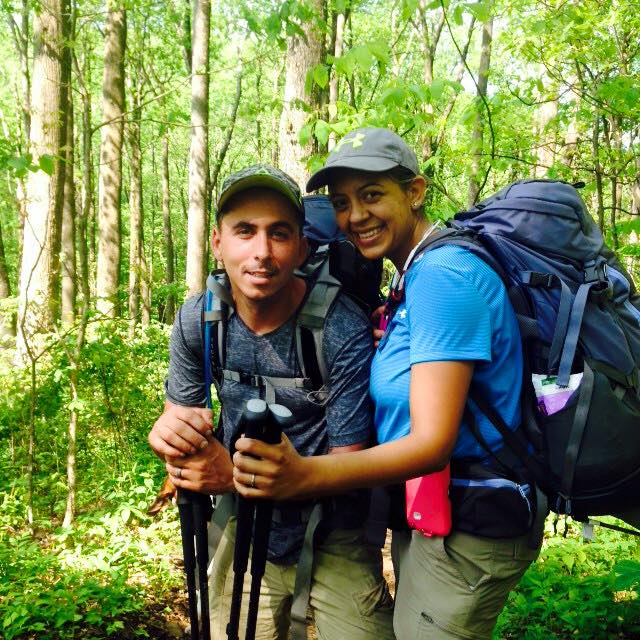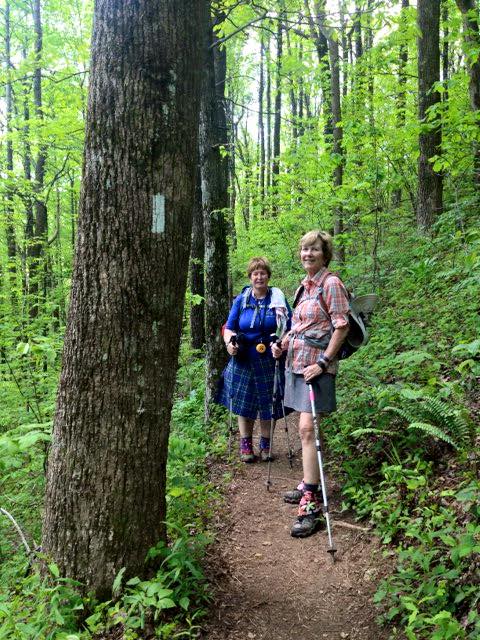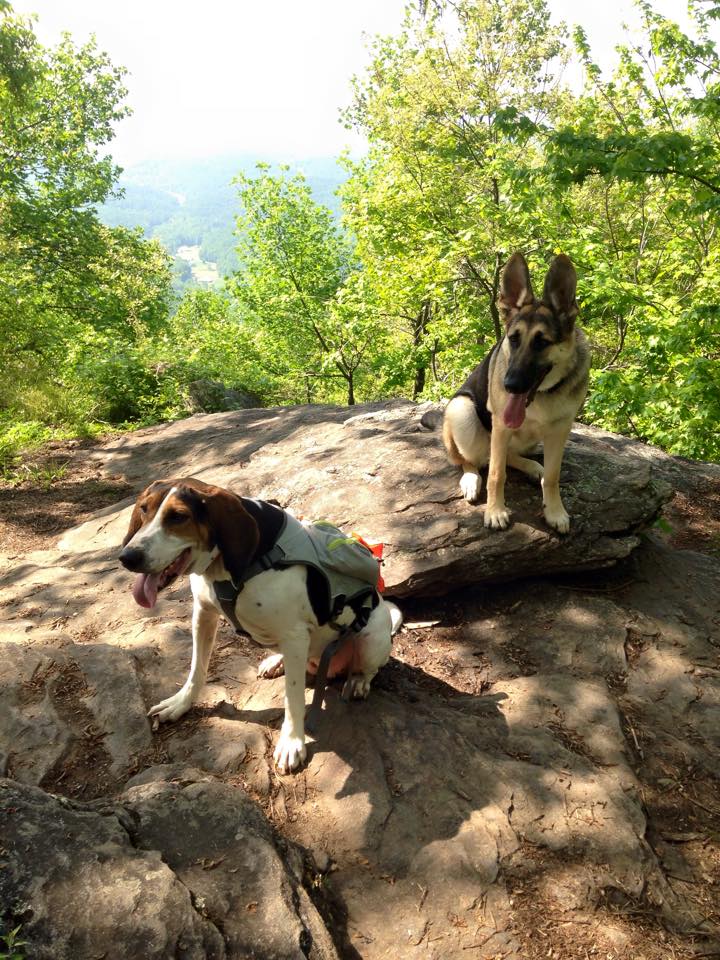 It's interesting that our friends noticed the two different hiking styles for our dogs. Cullowhee meanders up the trail – she doesn't use any extra energy. When we ask her to wait for us, she turns her head and waits.
When we ask Michaux to wait, she hurries back to check on the last person in the group. Once she is sure that everyone is okay, she bolts to the front of the line again to be with Cullowhee.