Thanks everyone for your kind birthday wishes! Me and my 5 sisters are now ONE year old!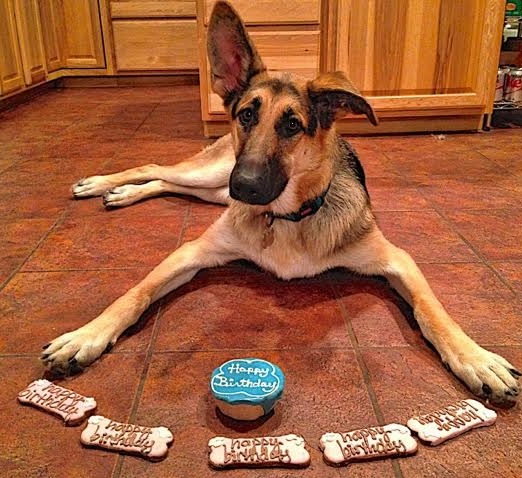 I just want to tell everyone that I LOVE YOU. I LOVE my family. I LOVE my friends. I LOVE balls. I LOVE hiking. I LOVE chasing frogs. I LOVE watching birds and airplanes. I LOVE cheese balls. I LOVE swimming. I LOVE so many things!
My parents follow Tuscarora State Forest Facebook Page, as they have some cool cameras that capture bears, bobcats and eagles. One day in October 2014 they posted pictures of a homeless family and their dogs. 3 adult dogs and 6 German Shepherd Dog puppies!! All the puppies were girls!
A very nice ranger named Steve Shaffer helped my family and there was a segment on Fox News 43 about us. A wonderful angel named Kari Coble from One Dog At A Time offered to take me and my sisters and find us new home. A local ministry offered to help find warm housing for the rest of my family.

Aren't my parents gorgeous? My mom is tan and black and my dad is almost all black. I obviously got my dad's eyebrows.
My future human parents had talked about a boy dog, but never a girl.
They sent in an application and they were contacted by a nice lady named Mebbie Bradley-Van Orman from Camp Papillon Rescue and she told them that they had over 100 applications for us puppies. So my parents thought what the heck and also sent in Cullowhee's story. They had to send in references and take photos of their home and yard to prove they could take care of me.
A few days passed and they were contacted that they had been approved. Then reality set in, OMG they were getting a puppy.
Here is their story….
A 9 week old puppy. I have not raised a puppy in 16 years. When Indigo passed away, a big part of my heart was lost. I had her for 14 years. In my opinion, I love Cullowhee, don't get me wrong, but there is nothing like a GSD. I was missing something in my life, but I couldn't figure out what it was.
The night before we went to go pick up this new puppy, we were thinking about names. Tuscarora, we didn't like, so I went to the book shelf and got the Appalachian Trail names book. We started at A. Avery, Fontana, Roan (we both loved Roan, but this pup was a girl), Stecoah, I kind of liked Ashby, Monson…no, no, no…..Michaux, Michaux, Michaux, yup, there it is.
We adopted Michaux from One Dog At A Time in Lewistown, PA. We made plans to pick up the pup and had 4 puppies to choose from – Michaux is the puppy on the right.

We decided that we would let Cullowhee pick her sister, whichever one came to her that would be the one. All came up to her and all were not scared as we moved bikes and chairs and different things around them. One in particular was following her and we watched her for a bit and decided she was the one.
Michaux's first hike on day one was to Michaux State Forest near Caledonia State Park on the Appalachian Trail.
We started a Facebook group so that we could stay in touch with Michaux's siblings and their families. Here is a picture of each girl at around 4 months old.
Michaux has been to more places in the last 10 months than most people have been in their lifetime.
Michaux is one year old today and has brought our home much happiness in the past 10 months. She has helped Cullowhee come out of her shell, and is a very smart girl.

Life is much better with a GSD in the home.