We hiked the following sections with our good friends Google and Lock Down from Trail Dames. We had done day hikes with them before but this was the first time we had backpacked with them.
Since we waited too long to make our reservations at Madison Spring Hut, we had to hike Pinkham Notch to Route 2 first. And then hike Mt. Washington to Pinkham Notch.
We all arrived in Gorham, NH on Saturday. We had booked reasonably priced rooms at Northern Peaks Motor Inn. When Google and Lock Down went into their room, they discovered that their room was already occupied! Lock Down said "Oh the fun is starting early!"
Since the weather forecast was good for Sunday, Dirigo suggested that we use the Wildcat gondola to break up our first section. We all agreed this was a good idea but knew that the gondola could close for bad weather. Initially, we thought about hiking down the Wildcats but Python wanted to hike up them (fear is a powerful motivator).
We were lucky because we had two cars during this section. There was Dirigo's truck and Lock Down's car. Lock Down's car used to belong to her mother and has 300,000+ miles. We were totally amazed that Lock Down had cleaned out her car "enough" so that 4 hikers and their backpacks would fit in it!
Since we had two cars, we let everyone decide how they wanted to hike this first section. There was no pressure to hike in either direction. We made it clear that everyone had to make the decision that was best for themselves. We all decided to hike up the Wildcats.
We all knew that this section of trail was very rugged. But what does rugged actually mean? According to the dictionary rugged is "(of ground or terrain) having a broken, rocky, and uneven surface" and "having or requiring toughness and determination."
Four Dames on the trail today
Watch out world we're here to stay
Sound-off; 1 – 2; Sound-off; 3 – 4;
Sound off 1 – 2 – 3 – 4; 1 – 2 — 3 – 4.
I don't know but I've been told
Wildcat Peaks are for the bold
Sound-off; 1 – 2; Sound-off; 3 – 4;
Sound off 1 – 2 – 3 – 4; 1 – 2 — 3 – 4.
The granite state is mighty grand
Hiking with my feet and hands
Sound-off; 1 – 2; Sound-off; 3 – 4;
Sound off 1 – 2 – 3 – 4; 1 – 2 — 3 – 4.
Clap your hands up in the sky
The beauty here will make you high
Sound-off; 1 – 2; Sound-off; 3 – 4;
Sound off 1 – 2 – 3 – 4; 1 – 2 — 3 – 4.
Pinkham Notch to Wildcat Gondola (8/17/2014, 2.8 miles)
We dropped Lock Down's car at the Wildcat Mountain Ski Resort and then drove Dirigo's truck to the Pinkham Notch visitor center.

We started hiking from Pinkham Notch around 8:30 and the trail started out nice and flat. There was a light drizzle.

The trail followed the Ellis River until Lost Pond.

After this the trail got rooty, rocky, and slick. And then the big boulders started to appear.
Keeping with the Trail Dames spirit, we stayed close together during the tough sections. We helped each other navigate the difficult terrain by pointing out the best routes and tippy/slippery rocks. We always kept each other in sight.
When we finally got to a place with a view, we were socked in by clouds. We decided to take a long break on the ledge – we think it was Sarge's Crag.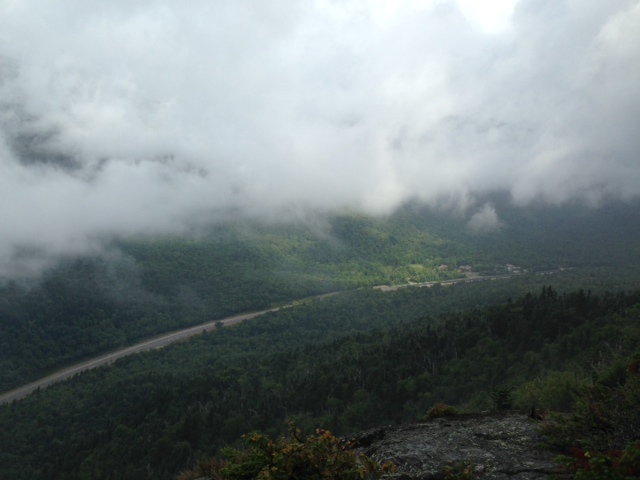 The climbs were very steep and sometimes we had to go down on all fours to keep from falling backwards. We also had to hold onto the trees to help us up or down – we started saying "I love Groot."
We met two of the Warrior Hikers (there are only 3 left) on our ascent. Even they said this was a tough section.
We came across 2 sets of wooden steps that were bolted into the mountainside. The first set was near a signed spring.

The second set was followed by a very slick ascent. Google was in the lead but had to pause here because she "lost her words." So, Python went first and once Google saw a safe route she climbed up.

We took a long break after this to calm our nerves. After we reached Wildcat E, the trail eased up until we reached the gondola.
We were so happy to hear the sound of the gondola!

We took some quick pictures and then hopped aboard!
We enjoyed the ride down and once we got to the bottom we went inside to pay $7.50 for a one way ride.
Hats off to Lock Down for wearing a skirt during this entire section – she had the dirty legs to prove it!

On the way back to Gorham, we picked up NOBO "Wicked." He was hiking light so it was interesting to hear his gear choices. He was from the granite state so he was loving his time in the Whites.
Total hike time was 4 hours and 30 minutes.
Wildcat Gondola to Carter Notch Hut (8/18/2014, 2.8 miles)
We arrived at Wildcat Ski Resort at 9:30 but the gondola had a wind delay until 11. We started from the observation deck at Wildcat D at 11:30.

Climbing with a full pack was really tiring! We pulled ourselves over big boulders and slid on our butts.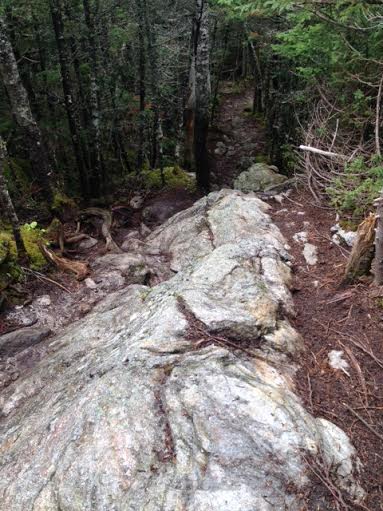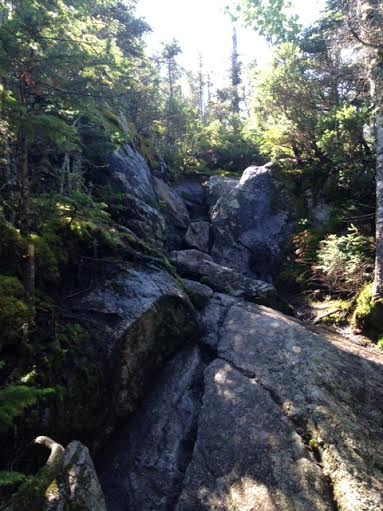 We had lunch before Wildcat A on bog logs since there was no place else to sit. Met 2 thru hikers and several day hikers.
During another break we met NOBO thru hiker "Wicked." Hiking looked so easy for him – and he didn't even use poles.
We came to a beautiful lookout and could see the Carter Notch hut way far away… and so far down!

The descent was very rocky but it was manageable. We took our time since we had plenty of daylight.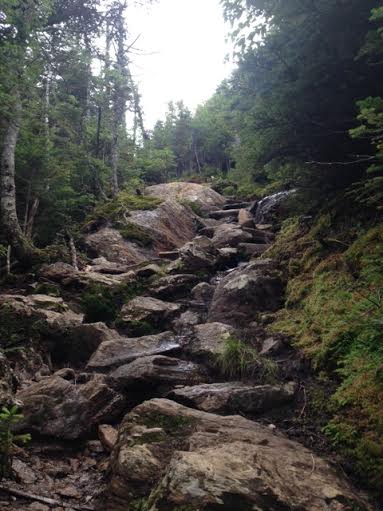 We finally reached the sign to the hut and met a group of nice kids from Boston.


These kids were members of a squash club. Python was happy to see another Asian on the trail – yep, another Asian Invasion. The kids were obviously tired from their hike so we told them our ages. When they heard Google's age, one young woman exclaimed "OMG, you're going to live forever!" Google said this girl was her personal cheerleader.
We had another 0.3 miles to the hut. We got to the hut after a tough 4 hours and 20 minutes. The lodge, bunk houses, and privies were all in different buildings.

Dinner was shepherds pie, corn, bread, tomato soup (too watery) – this was our least favorite meal at the huts. And the shepherds pie was covered in mashed potatoes! Are you serious, we are paying for mashed potatoes?
A nice couple from New Jersey did the entire Wildcat range today and came in during dinner time. The wife was in serious pain after dinner and had trouble walking to the bunk house. We told her that she should be really proud of her accomplishment because this was a tough section – she admitted that she had a meltdown on the trail.
Python took her pack and gave up her lower bunk. Dirigo gave her a nerve blocker and offered her many other drugs. Her husband made up her bunk and helped her get into her sleep clothes. The wife did not move again until the morning. Fortunately, she looked much better in the morning and was hiking out the Nineteen Mile Brook Trail.
After dinner, we asked the croo if anyone would be willing to take our tents, stoves, and food to Imp Campsite for $100 bucks. Absolutely, no takers! One croo member even had the gall to say that he would do it except for his broken toe. The croo didn't even use the radio to ask if anyone else wanted to earn some money!
Carter Notch Hut to Imp Campsite (8/19/2014)
We left the hut just before 8 am. Lock Down took the trail around the ascent to Carter Dome since she had already hiked this section. The climb was steep but the temps were cool.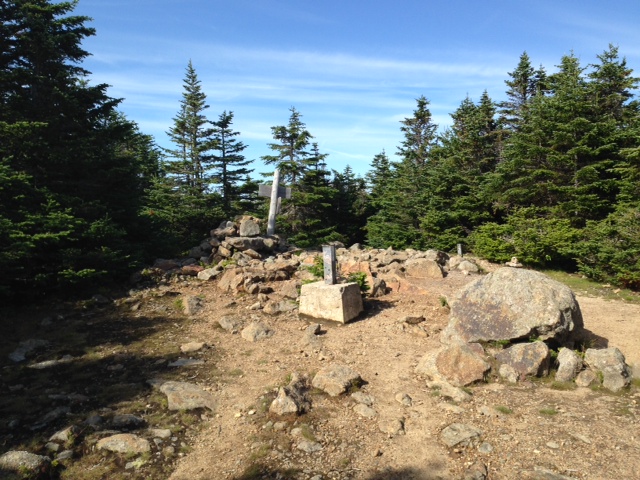 We had nice trail from Carter Dome to Mt. Hight. We reached Mt. Hight after 2 hours 45 minutes where we met SOBO "Coffee Break" – we gave him some candy and a gel pack called "Espresso Love." We took a nice long break and enjoyed the sunshine.

The descent from Mt. Hight was very steep!!

We reached Zeta Pass after 3 hours 50 minutes. Lock Down reached Zeta Pass about 15 minutes before us. We had a nice long lunch at Zeta Pass. There was a small stream here and we met several thru hikers who were slack packing.
We also met another section hiker named Adrian. He was a really nice gentleman who had hiked this section before. He told us to take our time during the descents so we wouldn't get hurt.
During a relatively flat section, Python slipped sideways and scraped her arm on a rock. She cleaned the wound and then Dirigo put two big bandages over the wound.
We took another long break after sign that said 1.9 miles to Imp. Python ran out of water about this time.
We reached Imp campsite just before 6 PM – exhausted after 10 hours 30 minutes!

The caretaker was a very cute guy named Decklin. We each gave him $8 to stay at Imp. We told him about our offer to the Carter Notch croo about carrying our gear and he was surprised that nobody took us up on our offer.
We were assigned tent platform number 4 and we were suppose to fit all three tents on this platform. It took us a while to figure out how to fit all three tents on the platform since each tent had a different opening – Lock Down said this is called Tent Tetris.

Google, Dirigo, and Python filtered water for everyone while Lock Down kept our stuff safe from the squirrels.
We cooked dinner in the dark at our tent platform. Our packaged lasagna dinner was bloody awful so we just had a candy bar for dinner. Dirigo was so tired that she accidentally spilled her very hot cocoa on her leg.
After dinner, we put all our smelly stuff into the bear box near the shelter.

Adrian told us that there were only 2 people staying at the shelter tonight.

The large tent platform was taken by a group of freshmen from Harvard. They had their stuff all over the trail and kept pouring their water right onto the trail.
Imp Campsite to Route 2 (8/20/2014, 7.3 miles)
The noisy squirrels woke us up early and we left Imp at 7:50 am.
We knew that today was going to be a long day so we took many nice breaks along Mt. Moriah.

We asked Google why she wasn't a hike leader for the Georgia Trail Dames? She told us that she needed to co-lead some more hikes. Well, she did a fine job of leading us through some very difficult terrain so we definitely think she is ready!
We reached Mt. Moriah summit after 3 hours and 15 minutes (2.3 miles). Lock Down dropped her pack and climbed to the summit. Yep, another peak bagged for Lock Down!
Everyone else waited on the AT since we aren't peak baggers. After about 10 minutes, we started screaming for Lock Down to get her butt back down here so we could resume our hike.
When we think we are finally starting to descend when encounter lots of mud. We also start meeting other hikers. The descent from the Mt. Moriah summit is almost 6 miles and very rugged. I think at times we were only going 1/3 of a mile an hour.
During tough times like this, it is really helpful to be surrounded by positive people. Yes, we were all tired and in pain but we helped each other keep our spirits up instead of dwelling on the misery. Well, okay we joked about the misery but it was funny.
We crossed the Rattle River several times and fortunately it was nice and low. Dirigo loves the water so she was usually the first one to cross and pointed out which rocks to use for footholds.

A SOBO hiker told us that eventually the trail would get easier after we crossed a stream. Well, we crossed several streams before the trail actually became a foot path again! OMG D-I-R-T!!!
We finally reached Rattle River Shelter at 3:40 PM and got passed by a female NOBO thru hiker.

We reached route 2 after 8 hours 36 minutes. We were all elated to be finished with this section!

Mt. Washington to Madison Spring Hut (8/21/2014, 6 miles)
We must credit Lock Down for suggesting Subway sandwiches for our lunches during this section. We stopped by Subway in the morning and each got 2 sandwiches for our lunches.
We arrived at the Pinkham Notch visitor center at 8:20 and asked the staff to call us a shuttle for the Mt. Washington Auto Road. We were picked up pretty quickly and arrived at the Glen House before 9. We all paid for a one way ticket and then waited for shuttle until 9:30. In the mean time Google warmed up by doing butt kicks and high knees in the parking lot.
We had a lovely ride up to Mt. Washington. As soon as we got out of the van, we saw Ms. Janet at the top and the cog train approaching.

Since Google needed her picture at the summit sign, we rushed over before the crowds arrived. Afterwards, we got our picture taken with Ms. Janet.
We were all wearing our Trail Dames dry wick shirts today – Google and Python had to put on additional layers to stay warm.
We met Lock Down's friend Christine who gave us each a goodie bag and looked for Marty the cat (no luck).

We started hiking at 10:26 AM. The sun was out and we had beautiful clear skies!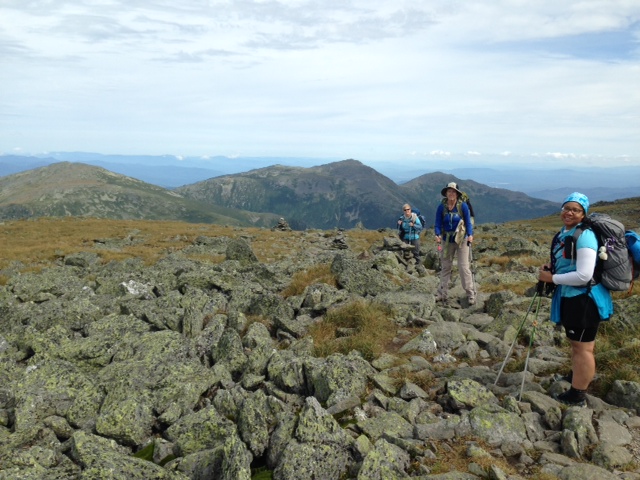 When we got close to Mt. Clay, Lock Down bagged another peak while we stayed on the AT. We all met up again on the AT and had a delicious lunch. We also enjoyed the wonderful chocolate in our goodie bags from Christine. Lock Down had talked to a father and son who were out for the day – the poor son looked absolutely miserable.
New Hampshire is called the granite state for a good reason. The trail is basically a pile of rocks. The trail route is marked by cairns (man-made pile of rocks). So, today was all about rocks.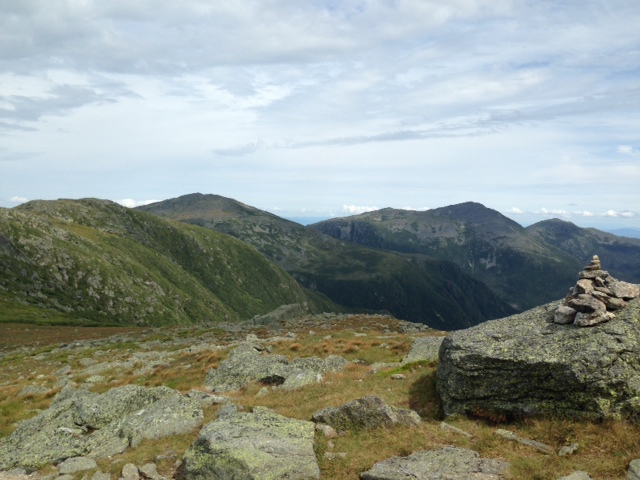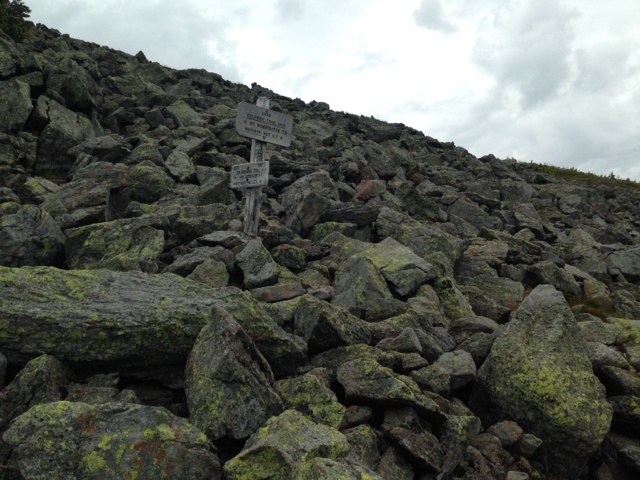 Dirigo kept reminding us to walk on top of the rocks and after a while we all got into our hiking rhythm – it helped that the rocks were not slippery.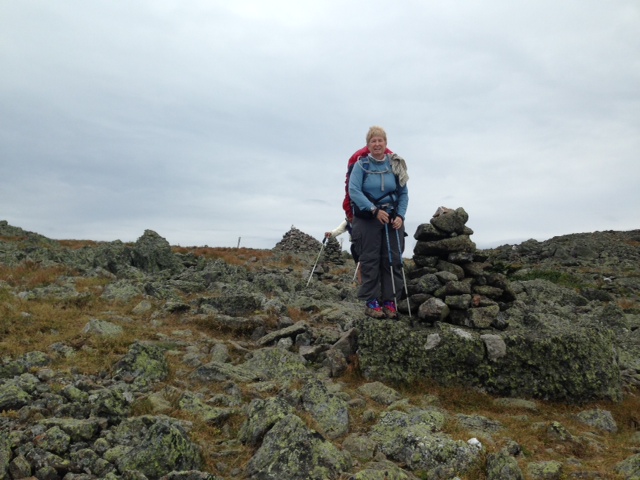 The wind started to pick up after 4 pm and every time we would come around a corner, we would expect to see the hut.
We kept encountering an odd fellow who kept passing us and then would stop and wait for his wife. It was annoying because as soon as he passed us, he would stop and wait.
I must commend the trail maintainer responsible for the last half mile of trail from the shelter. The rock pile is almost flat!
We were so happy to finally see the hut but once again it looked so far away.

The descent into the hut was steep with sliding dirt and small rocks.
We arrived at shelter just before 6. We quickly found bunks and got out of our boots just before dinner.
The dinner was delicious – beef tips, peas, and wild rice. The secret dessert was also very yummy and sweet. The summer and fall croos were in a transition period so the AMC called in some old pros to help the newbies tonight.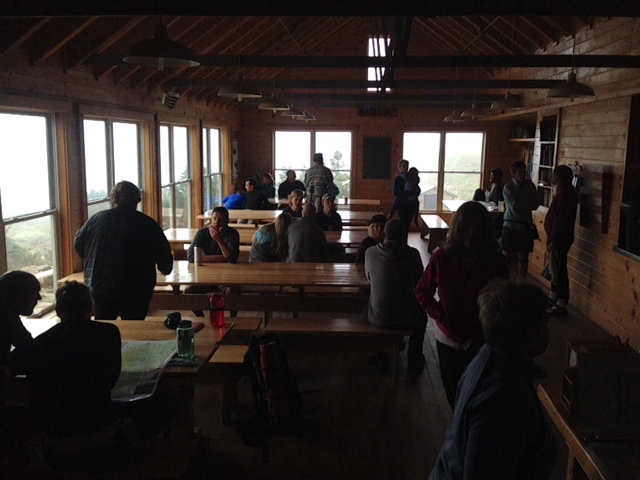 The odd fellow who kept passing us arrived with his wife sometime during dinner. Apparently, his wife had sprained her ankle and wanted a lower bunk. Unfortunately, no one was willing to give up their lower bunk. These two were definitely out of their element! And then the odd couple bunked right above us!
We overheard one of the NOBO thru hikers who was doing work-for-stay say "My feet haven't hurt this bad since Pennsylvania."
Madison Spring Hut to Pinkham Notch (8/22/2014, 7.8 miles)
We left the hut at 8:10. The ridge was socked in by clouds and the winds were gusting all around us. We were so glad that the cairns were also marked by white blazes.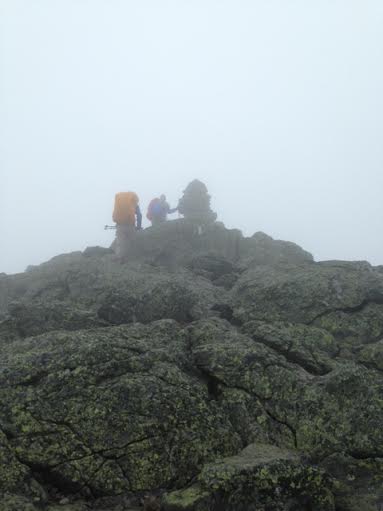 It took us almost 3 hours to get below tree line. As soon as we got below treeline, we had lunch – we were exhausted.

It felt so good to be out of the wind but the trail was no picnic. It was still very rugged so it was slow going.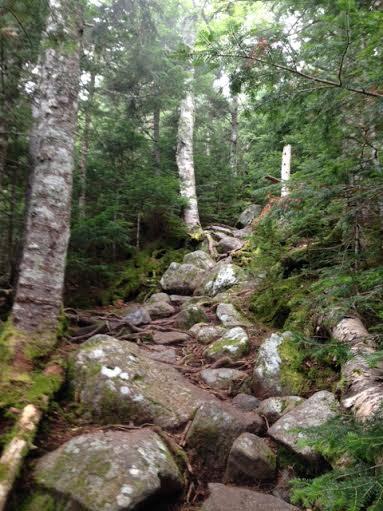 We reached the Osgood tent site sign at 1:40 PM and stopped for a break. We turned right to continue on the AT.
We crossed Peabody River over a nice suspension bridge.

After this point, there weren't many landmarks and the trail wasn't blazed very often. We would hear cars and then it seemed like the trail veered away from the auto road. Plus it didn't feel like we were descending anymore.
We were relieved to finally reach Lowes Bald Spot – finally an actual landmark!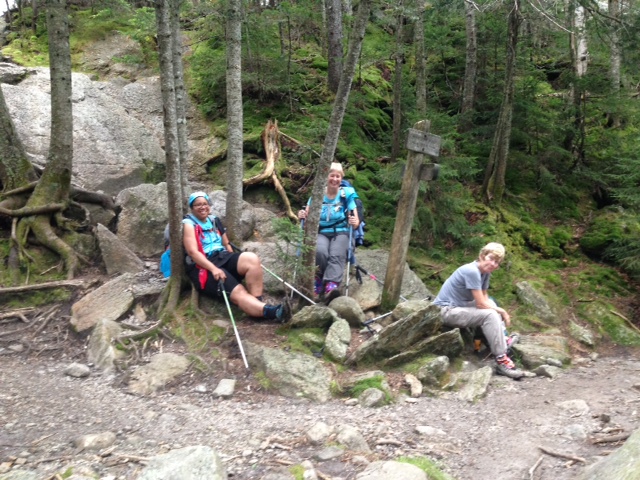 Google kept saying only 0.1 miles to the Auto Road. We reached the Auto Road at 4:50!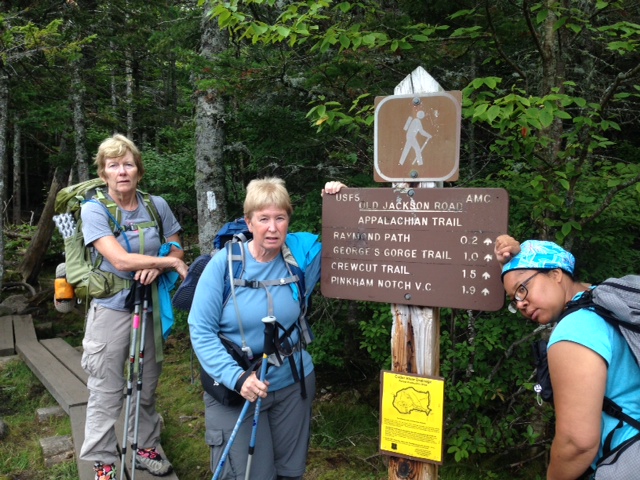 Lock Down told us it was smooth sailing after this point and she was right! The trail eased up and we were able to finally cruise on the Old Jackson Road.

We finally reached Pinkham Notch just before 6 PM.

The New Plan
When we got to Pinkham we had sore knees, and our bodies were in need of some rest. We were suppose to continue on to attempt the Mahoosuc Notch section but knew with the last sections we were in need for some much easier terrain. So….change of plans. We discussed what we might like to do and all decided that we all needed miles in Massachusetts, so with a laundry & travel day, we could start hiking at the Rt 2 crossing in Massachusetts on Sunday. To read about our Massachusetts hikes, click here.