We hiked this section on April 3, 2010.
Total hike time: 6 hours 33 minutes
Python's hike stats: 2274 calories burned. 70 Min HR , 146 max HR , 108 avg HR .
We met the Allentown Hiking Club in the Rite Aid parking at 9 AM. Python was amazed that there were 4 other Asians hiking today! Janet, the hike leader, warmly welcomed a very nice young Brazilian guy who was out for his very first hike.
We then drove 4 cars to the Lehigh Gap parking lot and left 2 cars there. Then we took the remaining vehicles to the parking lot at Bake Oven Knob.
We met 4 other hikers at the Bake Oven Knob parking lot – Jim, John, Trail Doc, and hikerBG.
Trail Doc and hikerBG have recently become infected with White blaze fever! They embarked on a backpacking trip on Friday and started at the State Game land parking lot south of Hawk Mountain road. They pitched their tent about 4 miles south of Bake Oven Knob. They woke up early on Saturday and hiked to the Bake Oven Knob parking lot to meet the group. They stashed their heavy packs in someone's car and used their day packs for the group hike.
The group started hiking around 10 AM and quickly reached the Bake Oven Knob summit.


Janet told us that the summit is a great place for viewing migrating hawks in the fall. We also saw the concrete foundation of a former tower that served as an airplane beacon.

Then the fun began – we had to descend down large boulders.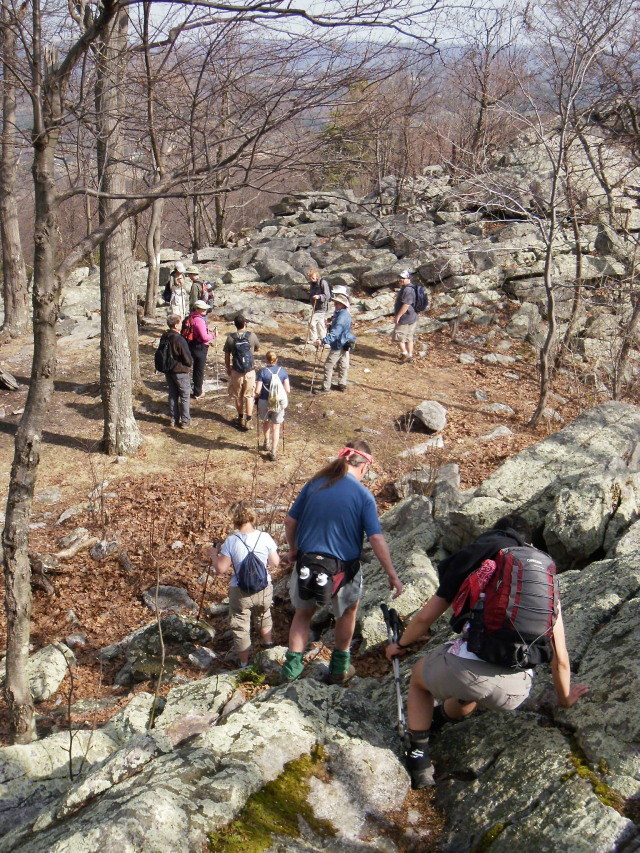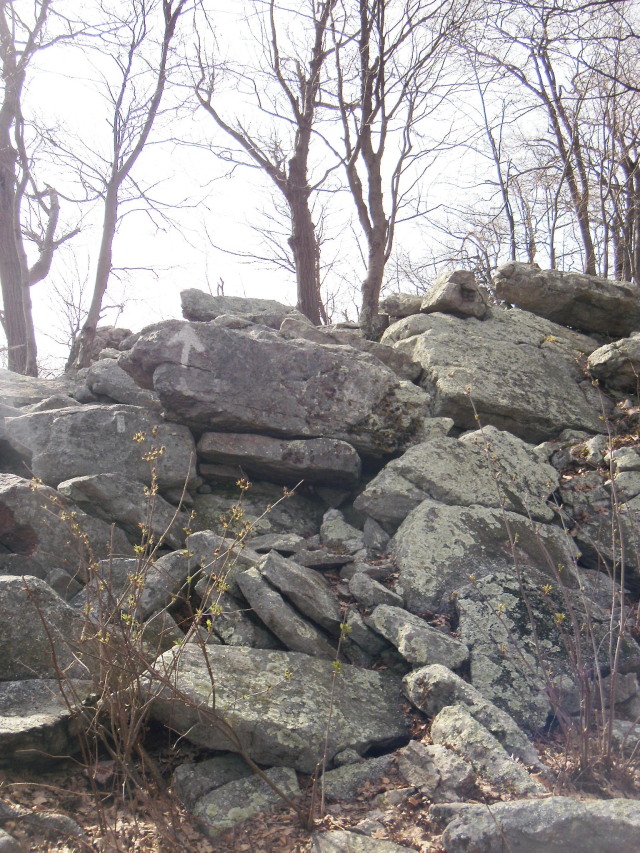 It was pretty fun – especially since the boulders were dry. The guide book states "Take care here. This is a test." Well, everyone passed with flying colors!
We took a short break at the Bake Oven Knob shelter.

This shelter does not have a privy but the spring was close to the shelter and was running well. We also met 2 ladies and their dog that were out for a long distance hike. Python gave Trail Doc her extra bottle of her water and packed out some dry dog food that was lying near the shelter entrance.
We stayed on the rocky ridge until we encountered an "AT RELOCATION" sign.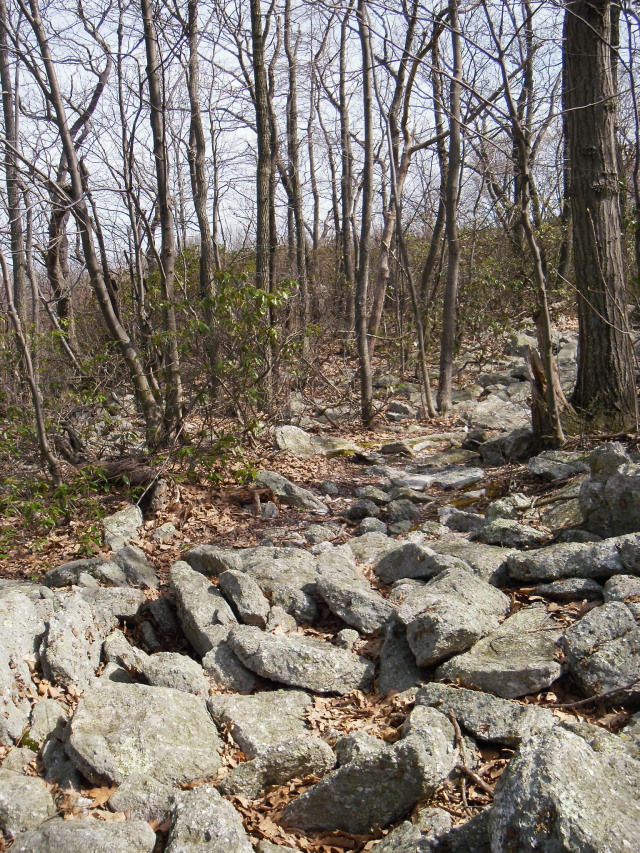 We then hiked on big rocks under power lines in the blazing sun. At one point Janet said "pretty soon you gals will be outside of our range". Python felt kind of sad about this but promised that we would come back for a visit.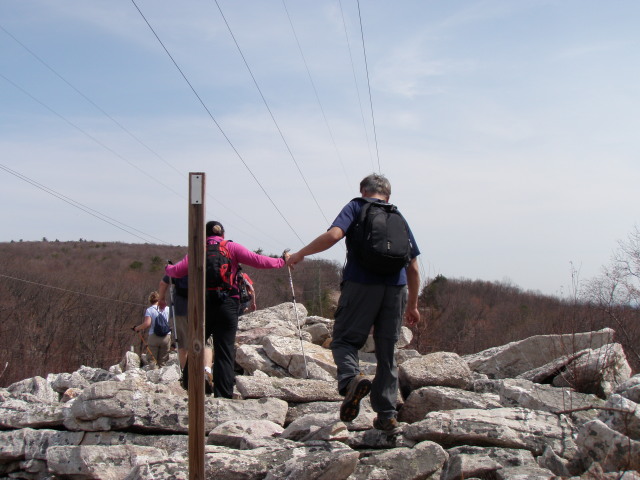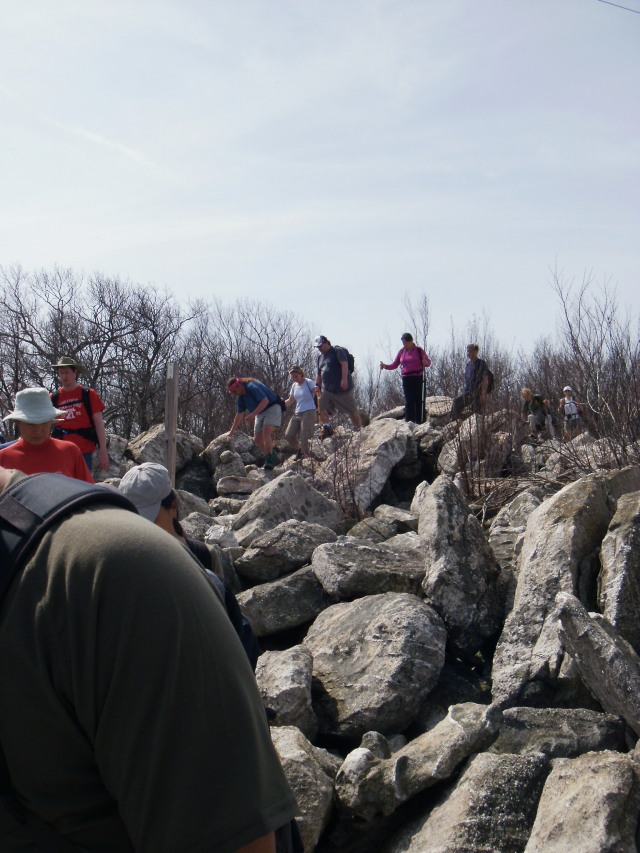 We crossed Ashfield road at Lehigh Furnace gap and Janet stopped to talk to a nice gentlemen who was out for a section hike. We continued to slowly ascend until we came to our lunch spot. During lunch Janet asked us to just listen for 60 seconds. It was such a gorgeous day to hike and spend time with people who enjoyed the AT. Janet also offered everyone a piece of chocolate.
Python took a picture of Dirigo with her iPhone and sent it to our dear friend Greta. Greta recently lost her husband and we wanted to let her know that we were thinking about her. Maybe we can get her out on the trail one day?
After we left the Game Land boundary, the vegetation on the trail changed dramatically – it looked desolate. The afternoon temperatures were getting pretty warm and several people were getting pink from the sun including the both of us.
Python got a bad case of patellar tendonitis at the end of February so she took it easy on her knee during the entire month of March (no squats or lunges during workouts). There was no pain in the tendon today but she did feel tightness on the inside of her left leg near the knee. The tightness occurred after taking a break on a flat section of the trail. Python just kept hiking and drank more water to make sure she was not cramping due to dehydration. After about 20 minutes, the tightness went away.
During a break several hikers offered their extra water to Trail Doc and hikerBG. Gotta love those Allentown Hikers!
After the North Trail joined the AT, we started our descent down the mountain. Our feet and knees were definitely aching. Trail Doc offered one of her hiking poles to someone who was limping down the mountain.
We reached the George Outerbridge shelter and took another break. There is a piped spring 150 yards below the shelter and it was flowing well.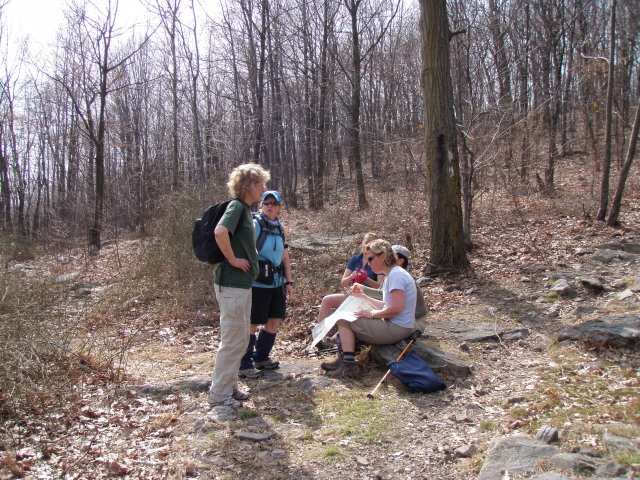 Since we only had 2 cars at the bottom of the mountain, Trail Doc, hikerBG, and Python stayed at the shelter for another half hour before descending. During our wait, we had the good fortune of talking to the nice gentleman we saw at Ashfield Road. He had already section hiked the AT once and now was on his second round.
Once Trail Doc, hikerBG, and Python reached the parking lot we had to wait about 10 minutes before Dirigo arrived. We then drove Trail Doc and hikerBG back to their car while joking about Trail Doc's very heavy pack. Who packs shampoo and conditioner for an overnight backpacking trip?