We hiked this section on August 29, 2009.
Total hike time: 4 hours 20 minutes
Python's hike stats: 2,423 calories burned. Min 103 HR , max 170 HR , avg 135 HR.
For the second time this year we joined the Allentown Hiking Club. The club was hiking from Bake Oven Road to Fort Franklin Road.
Due to the weather, only 2 members of the Allentown Hiking Club showed up for this hike. We met Bernie (hike leader) and Barbarba (the club secretary) in the K-Mart parking lot at 8:30 AM. The sky was overcast and there was a 50% chance of thunderstorms today. Everyone was concerned about going over the knife edge in bad weather. After a brief discussion, we decided to hike over the knife edge today!
We started on the trail at 9:37 AM at Bake Oven Road.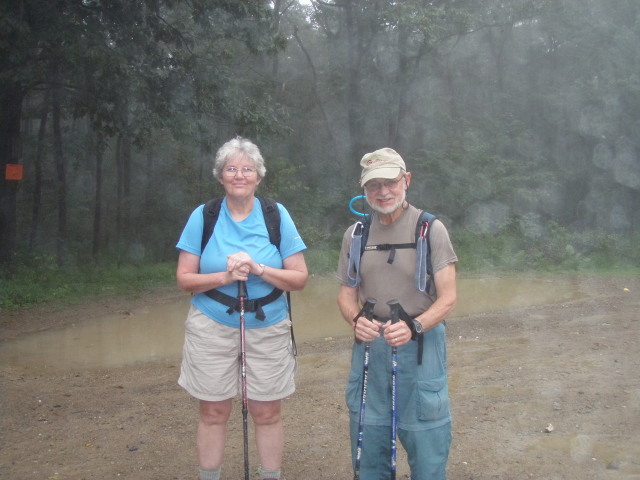 There are 2 very large Game Commission parking lots on both sides of this road.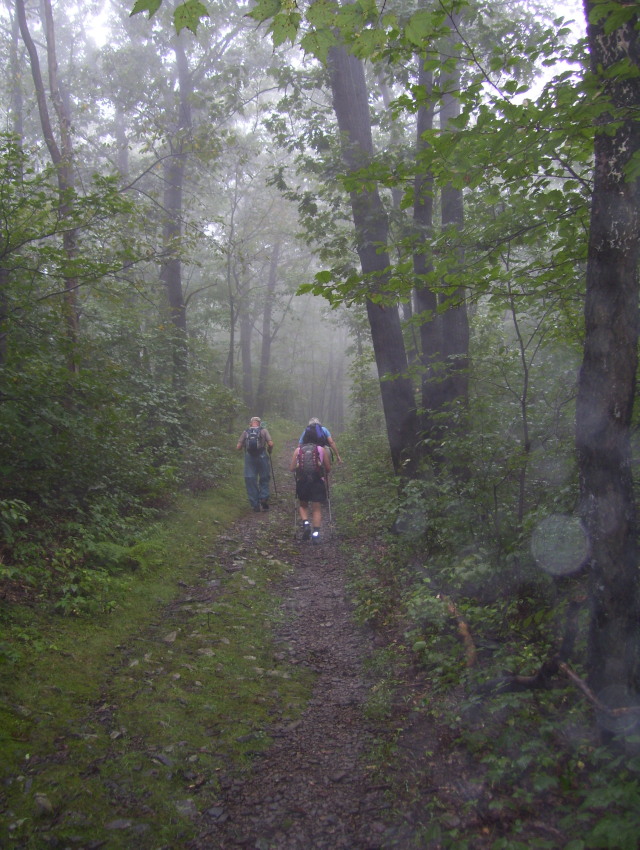 According to Barbara this is a very popular section – she once counted 97 people on this section of the trail. Barbara also pointed out a concrete post on the trail which is used to mark the boundaries of the various counties. These boundary lines were put in because if a crime was committed the authorities would know which county to call.
We passed Bear Rocks on our right after hiking a little over one mile. We decided not to take the blue blazed trail to the top since there were absolutely no views today.
We reached the knife edge or "the cliffs" after 1 hour. We decided to take a short break before starting the rock scrambling. Bernie told everyone to take their time through this section because the rocks were very slippery. Bernie went first followed by Barbara, Dirigo, and Python.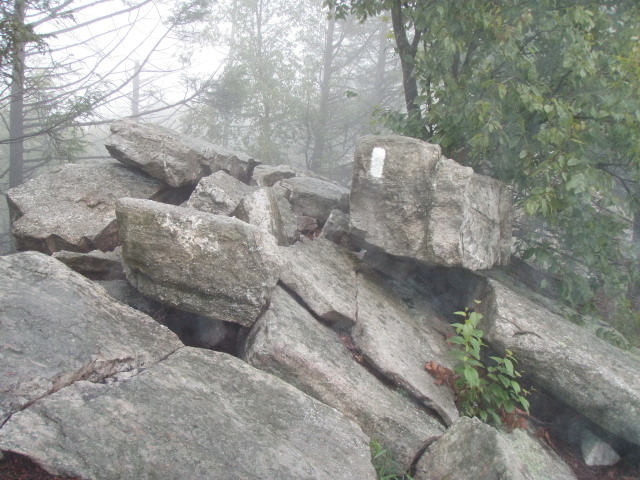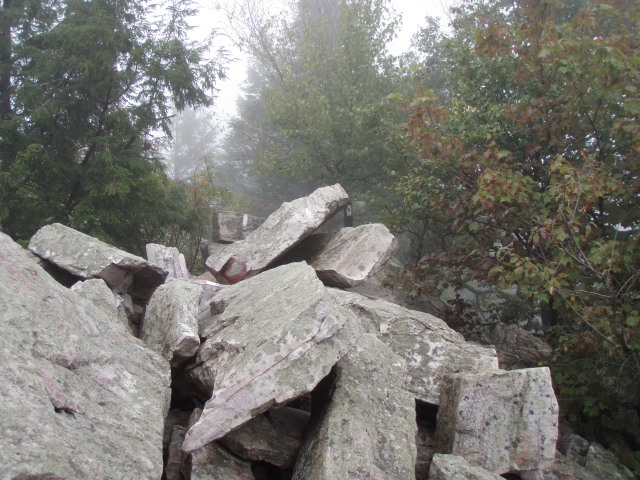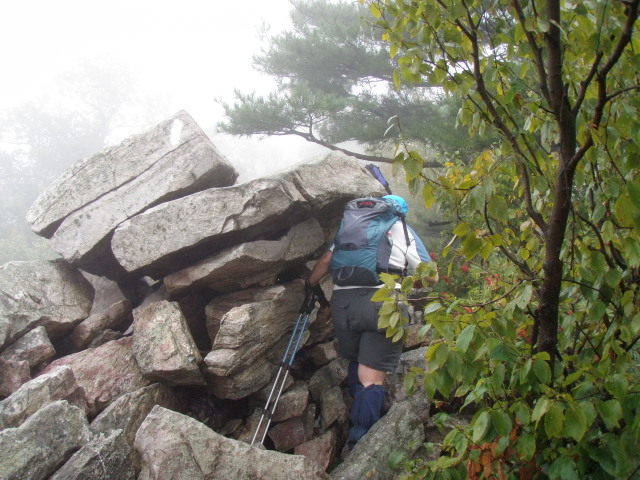 This was a really fun section. The rocks were very slippery so it was slow going. This section is known for it beautiful scenary but we saw NOTHING. This section can be very treacherous because of the slant of the rocks, but we made it over safely. Barbara ended up falling once but landed upside down on her pack so it really saved her from getting really hurt.
I can see this section being a haven for timber rattlers when it is hot as there are alot of places for them to sun themselves. The knife edge is blades of quartzite and it balances on the top of the ridge for about 200 yards. There are many place where you will find your poles useless and you have to use handholds to pull yourself up over the rocks. This was just a jungle gym for us as New Hampshire really was the mother of all rock climbing for us so far.
The trail was very rocky. On this section according to the "Exploring the Appalachian Trail" book, a thru-hiker, Beorn (trail name) stumbled upon a rock classification system not based on geology. According to Beorn, there are "vampire rocks" that want hikers blood, and "hip" rocks, that want skin. There are also "jumping rock" that grab hikers boots. I think we saw all of the above, and Barbara found more than most as she almost fell a couple more times.
We crossed the power lines where there is suppose to be a lovely view, again we saw nothing. I think that was the theme of the day – NO VIEWS. Well, at least the rain was holding off.
Barbara was a wealth of information and she is a librarian so she knows a lot about the history of the area, so she was telling us about the names and the folklore of the surrounding area. We came to the New Tripoli campsite, that has a big area for tents and a reliable spring off the ridge.
We walked on an old mountain road for a while and then came upon an abandon campsite with a tarp and beer cans in the fire pit. Barbara & Bernie are part of the maintaining club so they were talking about getting a crew to come in to clean up the debris. Both of them warned us against leaving our car in the parking lot right next to this campsite since the lot is not visible from the road.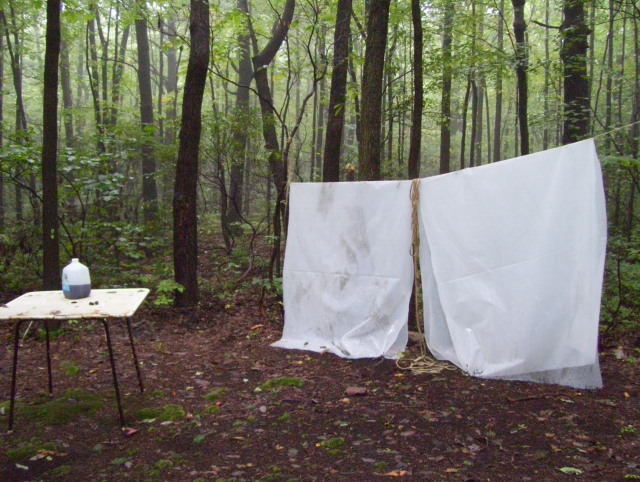 We stopped for lunch at a campsite near the trail. Bernie had a big bag of Werther's Original hard candy and offered everyone a handful. We love PA hikers!
Barbara also said up the trail near Rt 309 there is an abandon bulldozer. People just drop stuff off in the parking lot near Rt309. They have hauled out air conditioner and fridges, and couches, and other big items. Baraara said the AT was re-routed off the old mountain road into the woods for a ways because people were bringing big items up to the campsite and they had to carry it all out. The mountain road now has a gate to keep people out.
We continued on to Fort Franklin Road which is a section we had already hiked.